Unpacking Navy Gold Coast 2023: 5 Valuable Takeaways
Sep 14, 2023
(Photo from Navy Gold Coast 2023)
The 2023 Annual Department of the Navy (DON) Gold Coast Small Business Procurement Event, presented by the San Diego Chapter of the National Defense Industrial Association (NDIA), took place this year, July 26 to 28 at the San Diego Convention Center.
Gold Coast is a Navy procurement conference and forum that educates, guides, and assists companies (large and small) in their efforts to generate new business with the DON. This year's theme was "Sharpening our Nation's Warfighting Edge through Small Business Speed, Agility, and Transformational Innovations." Hundreds of small businesses (SB) from across the country attended the event, setting up booths to feature their products and services, meeting with buyers during the conference's matchmaking events, and attending panels and presentations to learn more about the government contracting process.
Navy Gold Coast provides a forum for large and SB to meet "buyers" face-to-face (i.e., representatives from federal and defense agencies and large contracting firms) and generate new opportunities for growth in the federal market space. The main attraction is the matchmaking events, where companies get multiple 15-minute face-to-face meetings with buyers. For many, this can be the "foot in the door" that can lead to new partnerships, and an opportunity to get facetime with a government official who may otherwise be difficult to track down. As a side note, if you would like tips on how to get the most out of trade shows and meetings with buyers, stay tuned for our live webinar in October on preparing for conferences and trade shows like this one. Sign up here and we'll send you a note when the webinar date is announced.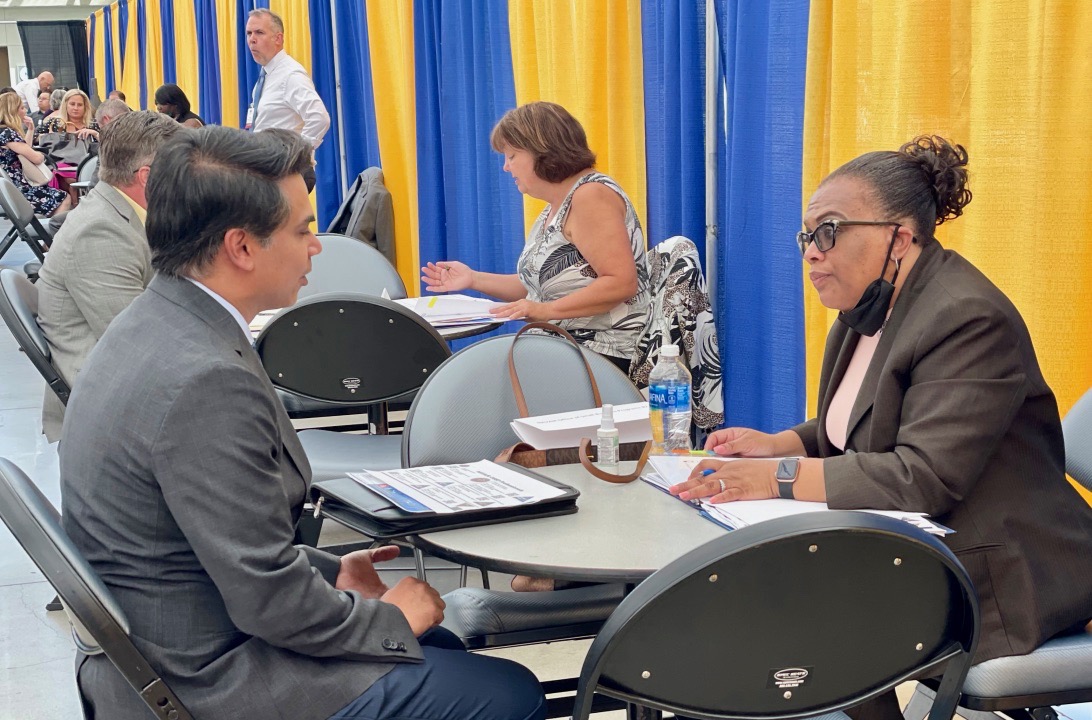 The matchmaking events are often the highlight of the three-day event, offering company representatives an opportunity to meet face-to-face with buyers. (Photo from Navy Gold Coast 2023)
I had the opportunity to represent Trident at Navy Gold Coast this year and attended many of the panels and presentations delivered by the government and industry located on the Gold Coast website. These presentations are all available for download, so we encourage you to take a look. However, if you don't have time to review all of them, here are the 5 key takeaways from the event we think you should know about.
1. Don't Do Anything Shady!
Several of the presentations by government experts, including one by the Acquisition Integrity Office (AIO) from the Office of the General Counsel for the DON, titled Small Business Anti-Fraud Outreach, warned small businesses against fraud risks. When contracting with the government you need to clearly understand the rules and the processes you are expected to abide by. Claiming you didn't know or didn't understand the rules or process is not going to get you out of trouble. Do your due diligence and ask for guidance and clarity when in doubt. We all walked away from the conference feeling like the government was trying to make a point — they take this issue very seriously.
2. The Government Wants Small Businesses to Take Advantage of Their Programs
The government has put a lot of effort into programs to help SBs succeedand they want you to know about them and make good use of them. We've talked about these programs in previous blogs, so we won't get into a lot of detail here. The first program is the APEX Accelerators (we wrote about the PTAC to APEX change earlier this year. For more information, see our blog, Can an APEX Accelerator Program Help You Grow Your Government Contracting Footprint? by Ada Stanford Barry). This program helps you get ready for government contracting by basically offering you free business intelligence support at the state, local, and federal levels. The second program is DEFENSEWERX, a program that offers SBs opportunities to compete for government contracts on a smaller scale in specific markets. For more information see our blog on Non-Traditional Avenues for Small Businesses by Jennifer Wineinger.
Another program that might be of interest to new SBs is the Small Business Administration (SBA's) Veteran Small Business Certification Program or VetCert. The goal of this program is to help increase the number of Veteran-Owned Small Businesses (VOSB) and Service-Disabled Veteran-Owned Small Businesses (SDVOSB) in the industry by simplifying the preparation and submission process for certification. This program was launched in January 2023 so if you're looking to certify as a VOSB or a SDVOSB, now is the time! It's never been easier.
3. Recent Regulatory Changes Might Have Affected You and You Don't Even Know It
We're not lawyers, so we're not even going to try to advise you on this, but in case you didn't know, federal regulations, laws, Executive Orders, and legislative updates are constantly changing and could affect your business. If you haven't kept up with the latest changes we strongly recommend you review the following presentations that touched on this point:
There are many more like this! We think you'll find them relevant so check out the hyperlinks above.
4. Federal Agencies Still Get Graded on Their Small Business Use – Use it to Your Advantage
The SBA wants to remind you that the federal government, by law, has small business goals it is required to meet: 23% of contract dollars must go to SBs; 12% to Small Disadvantaged Small Businesses; 5% to Women-Owned Small Businesses; 3% to Service-Disabled Veteran-Owned Small Businesses; and 3% to HUBZone Small Business. Agency-specific goals vary based on mission, requirements, and locations, but overall, the Department of Defense's SB Prime contracting goal is 21.95% and the SB subcontracting goal is 32.25%. All agencies are graded on SB use and receive a scorecard. If you want to make good use of your socio-economic status (SES), look for agency scorecards. Any agency that isn't meeting your particular SES goal should be someone to talk to. If you can demonstrate that a company with your SES can perform the work, you might be able to convince them to compete it as a small business set aside (SBSA) to improve their scorecard.
5. How You Write Your Proposal Matters
And last but certainly not least, a topic that is always near and dear to our heart – how to write winning proposals. We could talk about this for hours. But what we always, always, always find ourselves reminding our clients is exactly the same thing Mike Sabellico, Regional Director of the Imperial APEX Accelerator Program in the Southwestern region said about proposals in his presentation, Creating Winning Proposals for the Government: A proposal must meet two criteria – Responsiveness and Responsibility. Responsiveness refers to your submittal - it must follow the instructions of the solicitation (compliant). Responsibility refers to your qualifications and ability to fulfill the requirements of the performance work statement (PWS). That is, does your proposal prove you can perform the work with minimal risk? (i.e., Adequate financial resources, ability to comply with the delivery requirements, adequate management and technical skills, and adequate facilities and equipment to perform the work). These concepts are universally practiced in the government at the federal, state, and local levels. A public contract is not awarded unless these two requirements (Responsive and Responsible) are satisfied. We certainly agree with that! If you're completely new to the proposal writing process, Mr. Sabellico's presentation is a great start to understanding baseline expectations. If you need to take your proposal writing to the next level, we can help you develop a proposal that weaves a compelling narrative into your technical approach.
Bottom Line: Navy Gold Coast 2023 presented a wealth of valuable insights for businesses eager to pursue or dive deeper into federal contracting. Although we highlighted five takeaways, is an abundance of information waiting to be explored. We linked many presentations and federal rulings through the blog and would encourage you to dig a little deeper on the topic relevant to you. And if you find yourself at Navy Gold Coast 2024, be sure to reach out to us!
Trident Proposal Management has a cadre of capture and proposal experts on our globally dispersed team. To learn more about our capture management and proposal services, visit our website.
---
Written by Alexis Romero
Alexis is our Business Intelligence Lead, Orals Coach, and a capture and proposal expert at Trident. She brings extensive experience in defense contracting, proposal management, business and pipeline development, orals coaching, and UI / UX to our clients. Based in San Diego, she supports clients around the world as part of our globally dispersed team.